Established in 2003, My Best Friends Pet Sitting Service is a local, independently owned and operated business serving Stroudsburg, Pennsylvania and surrounding areas. With over 15 years of experience in the pet sitting industry, My Best Friends Pet Sitting Service fills an important need in the lives of your pets by keeping them safe, happy and comfortable while you're busy at work or away on vacation.
Our pledge to you is to always give your pets plenty of attention and love, while meeting the needs according to each individual pet. We offer quality services that owners expect of professional pet care and dog walking service, combined with the knowledge and credentials of a certified professional dog trainer.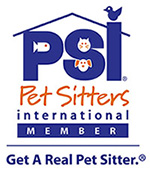 Whether for a day or a month, at your home or ours – it is our job to give you and your pets complete peace-of-mind. We take that responsibility very seriously. We pride ourselves on our competitive rates and professional, reliable service. We are bonded and insured, and members of Pet Sitters International. Most important, though, is that we love taking care of our best friends.